Virgin Mary statue decapitated in south Fargo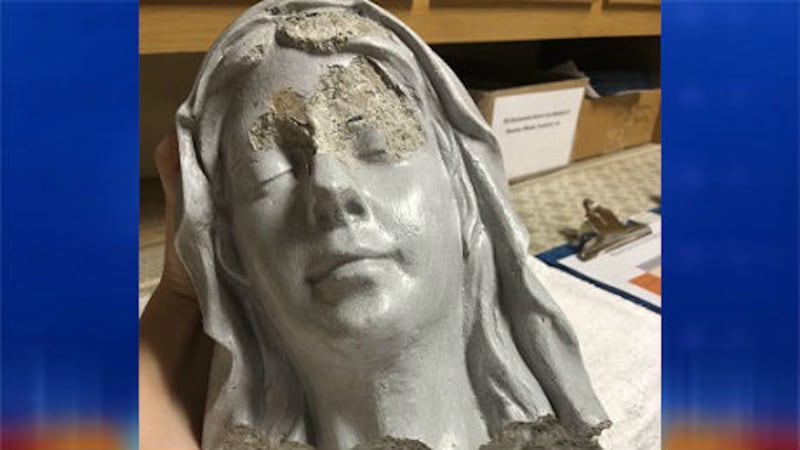 Published: Aug. 2, 2018 at 1:55 PM CDT
A woman heading to early morning mass yesterday noticed something a little off with the statue of the Virgin Mary at Saint Anthony of Padua Catholic Church in south Fargo.
The head was lying on the ground next to the statue, having blows to the face from a vandalism attack from the night before.
"And it made me stop and take a double take and I looked and thought, 'Wow! The statue of our blessed mother's head is missing!'" Rev. Raymond Courtright said.
Father Courtright says he thought he was seeing things yesterday morning when he first glanced at the statue of the Virgin Mary.
"It looks like there's three... Or five or more blows to the head of the statue! And so it was kind of shocking," Courtright said.
He says the statue is an important part of his congregation.
"There's people here all the time, walking on the way to work, driving to work. They'll stop and just come over for a couple minutes and then in the evening. A lot of people come over," Courtright explained.
Courtright says the statue has only been outside for a little over two years. And he says a blow like this will cost the church about $1,600 to replace, but says several people have already offered donations.
"They said, 'Well father we wanna get a new one, and we even wanna get a nicer one than the one we have! And I said, 'That's great!' It's nice to hear people want to do something about it," Courtright said.
Courtright says he doesn't think the incident means people are plotting against the church. However, he said they are looking into safety measures they can take for the next statue.
"I don't think we'll get cameras, put in a motion light maybe. So when people come here, the lights will turn on," Courtright explained.
And as weird as it sounds to say out loud, Courtright says he is mourning the loss of the statue's head.
"Yeah.. It's something personal."
Courtright also says, he's not sure what's next for the Virgin Mary, but he thinks the church will bury her like they do with other sacramental items.