Photographer rescues two kittens from controlled burn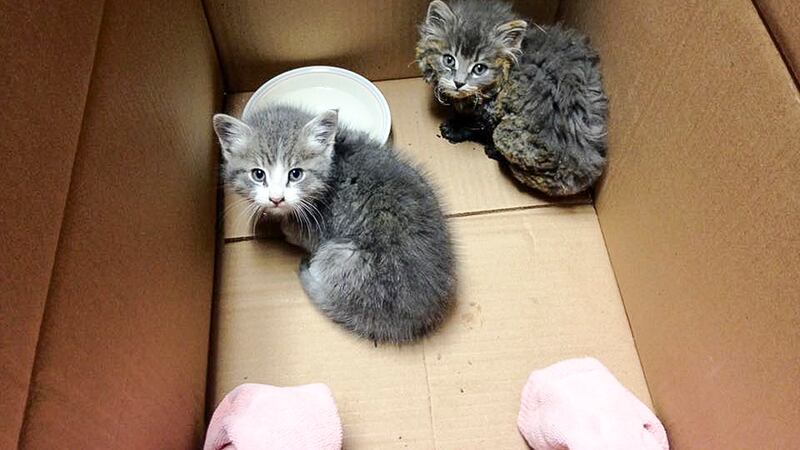 Published: Oct. 20, 2016 at 10:04 PM CDT
Pyro and Manni are the names of two kittens being called little fire fighters. The two barely survived after being trapped by a controlled burn in rural North Dakota.
The kittens were born in a burn pile, and a couple weeks later it was lit on fire. "I don't feel this was intentional, I think unfortunately they were just in the wrong place at the wrong time." Says their foster mom, Dawn Barth.
Thankfully, a photographer stopped to capture the controlled burn, and rescued them. "My first thought was, I am going to have to watch this cat pass away, that was my first thought." Says photographer, Carlos Pacheco.
He has been working on a project where he takes pictures of fires, and has never seen anything like it. Pacheco took pictures for about five minutes before he realized the two were inside. He says the sound of the fire was too loud to hear them meow. "I walked over to get some different angles, and I heard a cat meowing, and I kinda looked around and I didn't see anything. So, I took a few steps back over to where I was, and it turns out the cat sort of blended in with the trees."
Pyro was actually inside the fire, and Manni was nearby breathing in too much smoke. "It was too hot for me to even get close to it, which is why I was surprised that the cat was even in it. I had to shield myself with my jacket to even attempt to grab her," says Pacheco.
Pacheco used a stick to pull out Pyro, and scooped up Manni, putting them in a box, and taking them to cat's cradle to get emergency care.
"When I just saw her, I didn't think she would make it." says Barth. "His temperature didn't even register on the thermometer, and her's was low, her's was low too."
Pacheco says he's considering adopting Pyro and Manni, hoping wherever they go they will end up together.
Cats Cradle wants to remind people to spay and neuter their pets, saying that shelters are overflowing with animals.
Cats Cradle is funded solely on donations and grants. They are in need of donations, if you wish to help, we have contact information attached to this article.
The shelter is also looking for foster homes for cats in need, and volunteers to help with donations. If you are interested you can contact Gail at: GailV@catscradleshelter.org or call 701-356-7877.