North Dakota tax commissioner pleads guilty to driving drunk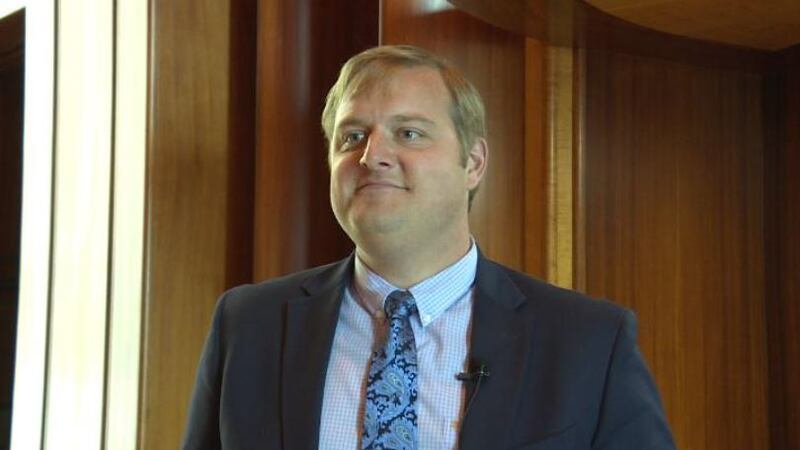 Published: Oct. 31, 2017 at 8:32 AM CDT
North Dakota Tax Commissioner Ryan Rauschenberger has pleaded guilty to drunken driving under a deal with prosecutors that includes a stiff fine but no jail time if he stays out of trouble for a year.
Rauschenberger last Wednesday signed a plea agreement with prosecutors on a misdemeanor count of driving under the influence of alcohol. South Central District Judge John Grinsteiner approved the terms a day later.
"I'm owning up to this. This is my mistake," Rauschenberger said Monday.
Rauschenberger was given a 10-day suspended jail sentence and put on unsupervised probation for a year. He was fined $1,000, ordered to pay $250 in court fees, and ordered to get an alcohol evaluation and complete any recommended treatment.
First-time offenders typically receive no jail time and fines of between $500 and $750, according to Bismarck attorney Chad McCabe, who has handled thousands of DUI cases.
"I wanted to be very clear that I didn't receive any more favorable treatment than anybody else," Rauschenberger said.
Morton County Assistant State's Attorney Austin Gunderson, who prosecuted the case, was in court Monday afternoon and unavailable for comment, his office said.
Rauschenberger, a 34-year-old Republican, was arrested by the North Dakota Highway Patrol in Mandan on Sept. 30 after driving erratically. He said earlier this month that he showed poor judgment and would plead guilty. He also said he was taking steps including treatment for alcoholism.
Rauschenberger on Monday said he is continuing treatment on his own time and won't consider taking an unpaid leave of absence, as he did for a month in 2014. He publicly revealed his alcoholism that year, soon after then-Gov. Jack Dalrymple appointed him to serve the final year of the term of then-Commissioner Cory Fong, who left to take a private-sector job.
Rauschenberger was elected to his post in 2014 and is up for re-election next year. He said he has not made any decision about his political future and that his DUI arrest will be only one of many factors that will go into that decision.
"My focus right now is the job and my continuing care and sticking with that," he said. "I'm not making any knee-jerk reactions right now."
Gov. Doug Burgum earlier said Rauschenberger has his full support "as he pursues his path to recovery." Burgum spokesman Mike Nowatzki on Monday reaffirmed the governor's position.