Minnesota attorney general sues tax debt company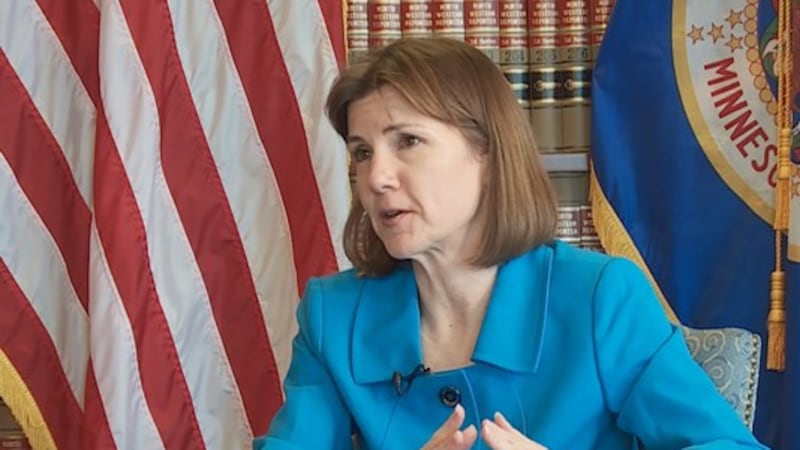 Published: Dec. 11, 2018 at 9:54 PM CST
Minnesota Attorney General Lori Swanson has filed a lawsuit against a "tax debt relief" company that Swanson said fails to deliver on its promises.
The lawsuit claims Wall & Associates, Inc. failed to register in Minnesota and collected advance payments from clients of up to $15,000 before services were fully delivered.
"State law prohibits these tax assistance companies from getting paid in advance. If you hire a tax assistance company, number one they have to be licensed. Number two, they're not supposed to collect any money until they've actually helped you," Swanson said.
Daryl Fox of Inver Grove Heights and his wife reached out to Wall & Associates, Inc. in 2013 after several events led to tax debt.
"We had a death of a child; I was in a horrific accident; the economy went into the doldrums," Fox explained.
Fox found out about the company through a television commercial. The company claims it can help people settle their tax debt. Fox said they were told it would take six to eight months to clear up the IRS issue.
"They convinced us that they could help us," Fox said.
But three years later, Fox said Wall & Associates still hadn't followed through. They mutually decided to cut ties. After the upfront fee and monthly payments, Fox estimates they lost $10,000-$20,000.
Daryl Fox of Inver Grove Heights and his wife reached out to Wall & Associates, Inc. in 2013 after several events led to tax debt.
Heidi Wigdahl
"You put some trust in people and in the back of their mind they knew exactly what they were doing," Fox said.
Other customers have reported difficulties getting Wall & Associates to return their phone calls. Fox said they always had to contact the company to find out if any progress had been made.
According to Swanson, the Virginia company advertises local offices in Minnesota but they are actually renting temporary space to meet with potential clients. On their website, Wall & Associates lists six offices in Minnesota.
Swanson said hundreds of Minnesotans have been impacted by this one company.
"There are many other companies out there doing similar things," Swanson said. "Which is what prompted us to issue this consumer alert today because, first and foremost, we want to stop new people from being victimized from these kinds of companies."
For those struggling with tax debt, Swanson recommends hiring a local accounting firm instead.
People with a tax problem with the IRS can also contact the IRS Taxpayer Advocate Service:
Wells Fargo Place
30 East Seventh Street, Suite 817
Stop 1005 STP
St. Paul, MN 55101
(651) 312-7999
To find out if a tax debt assistance company is registered in Minnesota, call the Minnesota Department of Commerce at 651-539-1500 or 1-800-657-3602.
Swanson said the lawsuit aims to stop the company from soliciting new people in the state while unlicensed, help victims get their money back, and punish and fine the company for doing business in the state without a license.
KARE 11 reached out to Wall & Associates, Inc. and are waiting to hear back.
Fox responded the lawsuit saying, "I can't believe that somebody actually explored into this and found what they found but I am so glad."