Local family warns about 'catfish' like adoption scam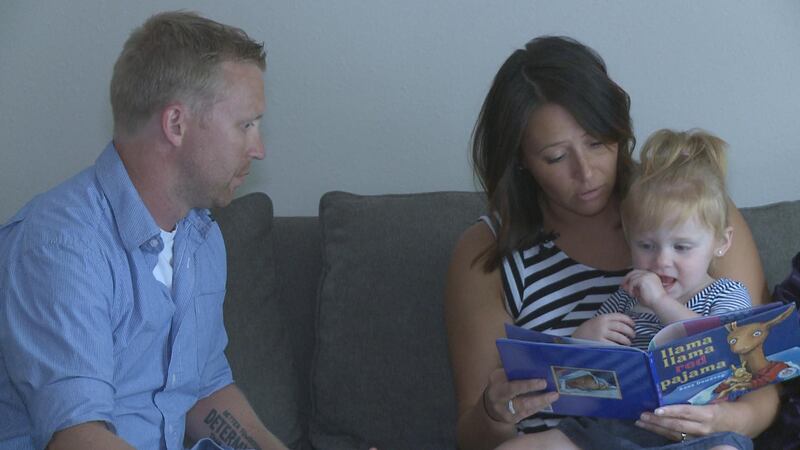 Published: Aug. 10, 2017 at 7:20 PM CDT
A warning tonight that a popular type of adoption is exposing generous families to people with bad intentions.
Identified adoption is when a family looking to adopt a baby and a birth mom find each other on their own, often through social media. That type of adoption is becoming a lot more common, and Facebook is helping to connect them.
However, it's also allowing scammers to pose as an expecting mother, and take advantage of those with a big heart.
Kim and Brandon Anderson love telling their adoption story.
Almost two years ago they adopted Kensley, after finding the birth mom on Facebook, through their adoption page. Kim says, "It's a scary process choosing adoption, I mean it was something we had never had planned for ourselves, and so when we chose it. One of the things that they said was do your own outreach, you would be surprised what birth mothers will find in you. So, we just put ourselves out there, and we are generally private people, and so putting ourselves out there was really difficult."
However, Kensley's birth mom wasn't the first to appear in their inbox. Kim says, "It was a young, attractive woman probably in her early 20's who started messaging us." They talked for hours, exchanged pictures, and soon asked Brandon and Kim to be the adoptive parents. Kim says, "We entertained the idea because what other choice did we have, really if we didn't entertain it we could be missing out on potentially expanding our family."
Thankfully, Brandon noticed something was off with the ultrasound picture. He says, "This is the one she sent us, and this is from the google search, so I found the same exact picture. You can tell it's the same exact thing, when you sent that it was like, well that's obviously not your picture, this is a picture from 2009 on Youtube." So they did a bit more digging. Brandon says, "She was actually impersonating someone else, using her name and picture and I found that and it didn't match the story she was giving us, and so I confronted her about it and it was quickly. I am sorry, I just need someone to talk to. I will never do this again, and then the Facebook account was gone."
The Andersons didn't lose any money, just time, but they learned a valuable lesson: to have a open, but cautious heart. Kim says, "What they are exploiting is your hope, and your potential for love, and that's what makes it so difficult." Brandon says, "You have to trust somebody, and they are exploiting your weakness to try and get something out of you."
While using social media comes with risk, they had to take that risk, or else they wouldn't have found their daughter, Kensely. "We are so grateful to her birth family, and to her birth mother for reaching out to us, on that same Facebook page a few months later."
A local adoption agency tells us in the state of North Dakota families are required to go through an adoption agency, even if they find the birth mother on their own. Often times agencies will be able to confirm the mom is actually pregnant, and who she says she is before they begin to finically support her. The money families give to birth moms isn't refundable, even if the mom decides at that last moment to keep her baby.