Kittens abandoned in Becker County; Shelter asks for communication and compassion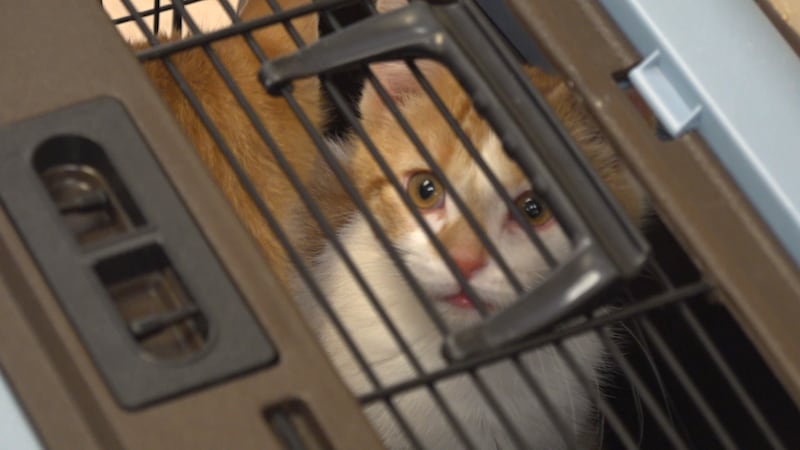 Published: Mar. 15, 2019 at 6:17 PM CDT
"I've had animals all of my life – we were always kind of an animal family," says Sierra Lynne, a Veterinary Technician with the Humane Society of the Lakes. "I definitely have a special place in my heart for cats."
"Cats, they just each have their own personalities," she continues. "They all have a personality and they're all different. I feel like it's just like people."
That's why it's hard for her to accept what happened Thursday morning.
"We were going to open the shelter doors yesterday and we noticed a tote sitting by the front door that had some holes punched in the top of it and it was taped shut," says Rachel Nolan, the shelter's Animal Coordinator. "The tape was starting to come off of the tote."
Inside that tote were four kittens. Shelter staff say they aren't sure how long the kittens were outside, but they did show signs of distress.
"It was cold and raining and it was getting in the top so they were getting wet and they were shivering and scared," Nolan says.
"It's so hard to see stuff like that," says Lynne. "Seeing animals cold and shivering – it's hard for me to watch."
Lynne says this time, the kittens survived the ordeal without any lasting problems, but that may not always be the case.
"If the temperatures would have dropped outside like they did last night, they could've gotten frostbite on their ears or tails and their temperatures could have dropped easily," Lynne says. "They actually didn't have any water in the box either."
But the burden and consequences of abandonment aren't only felt by the animals or the shelter.
"There is a note on our door that says that they do need to contact us prior to bringing an animal in to the building and that it can be punishable by law," Nolan says.
If you're caught and convicted, you could face one misdemeanor charge for each abandoned animal. And in this case - that number just went up to five.
Friday afternoon, shelter staff found another cat outside - and they think she may be the kittens' mother.
So for now, this family is reunited - but to protect more families in the future, furry or otherwise, the Humane Society of the Lakes asks for cooperation and compassion.
"We understand people have situations that maybe they can't deal with anymore," says Lynne. "They can contact us and we will try to work with them – whatever they have going on."
This season has been especially hard for shelters, with many struggling to find homes for all of the cats in their care. And with kitten season on the way - they're asking for your help. Foster families are always welcome, as are donations.