Judge Myron Bright has died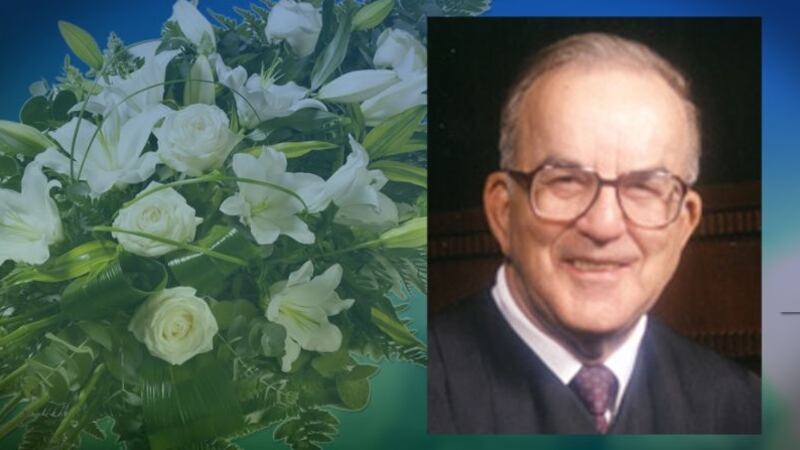 Published: Dec. 13, 2016 at 6:42 AM CST
Judge Myron H. Bright of the United States Court of Appeals for the Eighth Circuit passed away shortly after midnight December 12, 2016 at Eventide Fargo Senior Living Facility. The Judge died at peace surrounded by his children, grandchildren and great grandchildren.
Judge Bright was appointed to the Eighth Circuit in 1968 by President Lyndon Johnson. Over the course of his 48+ year career, he has presided over approximately 7,000 cases.
He was born in Eveleth, Minnesota in 1919 and, at age 97, is the most senior serving federal appellate judge in the United States and the longest serving judge in the history of the Eighth Circuit. He is well-known for his ground-breaking rulings in the field of civil rights and employment discrimination which has been followed since the 1970's by courts throughout the Country. He is a vigorous defender of due process in criminal law and led an initially reluctant appellate panel to free a defendant wrongfully convicted of murder in an Arkansas trial twenty years earlier. He is a frequent and strong critic of miscarriages of justice under the Federal Sentencing Guidelines.
Over the course of his career, Judge Bright served by assignment on virtually every other federal appellate court and as a visiting judge on federal trial courts in Arkansas, Massachusetts, North Dakota, Missouri, and Minnesota.
Judge Bright graduated from the University of Minnesota Law School in 1947 attaining the rank of Captain in the United States military from 1942 to 1945. Myron H. Bright and his late wife, Frances (Fritzie) Bright, moved to Fargo after law school where he became a respected trial and appellate lawyer with the firm now known as the Vogel Law Firm.
Judge Bright complemented his judicial career with a strong involvement in legal education. He served as Distinguished Professor of Law at St. Louis University School of Law from 1985 to 1990 and Professor Emeritus from 1990 to 1995. He taught trial and appellate advocacy. He also initiated Jurists-in-Residence Programs at law schools throughout the Country and taught at numerous legal education programs. In these programs, he was joined by outstanding legal personnel from various state and federal courts—lawyers, judges, and justices.
In 1997, he received the prestigious Frances Rawle Award from ALI-ABA Committee on Continuing Professional Education. He is also the recipient of the Lifetime Achievement Award from the University of North Dakota School of Law and an Honorary Doctorate Degree from North Dakota State University.
He is the co-author of the widely-used legal treatise, Objections at Trial, and the author of numerous legal articles as well as of his recently published autobiography, Goodbye Mike, Hello Judge: My Journey for Justice, a best seller published by the Institute for Regional Studies Press at North Dakota State University.
A public memorial service will be held at 1 p.m. December 21 at Reineke Fine Arts Center on the NDSU campus followed by a reception at the Fargo Country Club at 3 p.m. A gathering of friends and family will be held at Boulger Funeral Home, 123 Tenth Street South, Fargo, on December 20 from 6-8 p.m.