Grand Forks Police remind drivers that U-turns are prohibited within city limits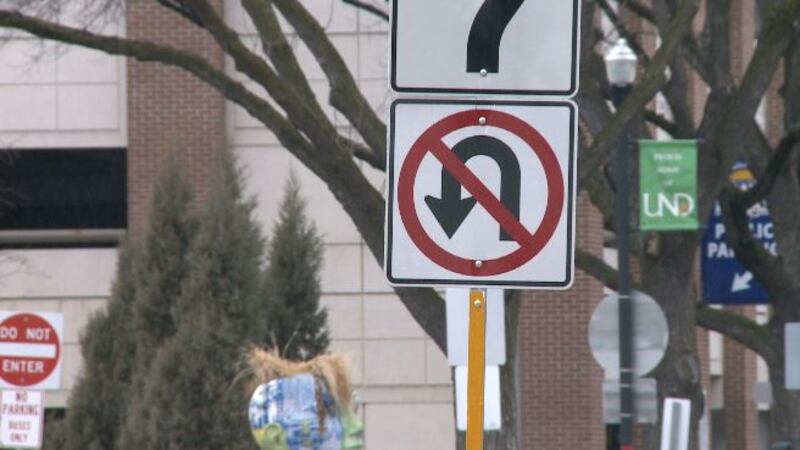 Published: Apr. 17, 2019 at 10:07 PM CDT
Whether it's because you missed your turn, you went the wrong way, or you simply need to turn around, a U-turn can get you going in the right direction. However, you won't want to pull a U-turn in Grand Forks anymore, because they are illegal there.
A U-turn in the City of Grand Forks could end up costing you $20.
"Anytime an intersection is controlled, whether it be by a stop light, stop sign, yield sign, that's when it's simply not allowed," said Grand Forks Lieutenant Derik Zimmel.
But UND student Ellie Lunsetter had no idea and is none too happy to hear about this.
"Actually, I'm really mad," Lunsetter said. "That's kind of annoying."
She says she makes U-turns all the time and didn't know it could end up costing her.
"If you're turning left and you have a yellow arrow, why wouldn't you be able to make a u-turn?" Lunsetter asked. "As long as there are no other cars coming, it should be fine. I don't know why you would have to pay for that."
Lt. Zimmel says the problem with U-turns is your vehicle is turning ahead of where your eyes naturally follow, and that presents a danger.
"When you are conducting a U-turn, you are turning your vehicle broadside to traffic, and if you don't have a clear sense of what's around you, it increases the likelihood that a collision occurs," Lt. Zimmel said.
Instead of paying the price, Lt. Zimmel suggests drivers just go around the block instead of making that U-turn.
We also checked to see if U-turns are prohibited in Fargo. We found there must be a sign saying they are allowed in order for you to do so.