Fighting a painful problem with a little bit of pain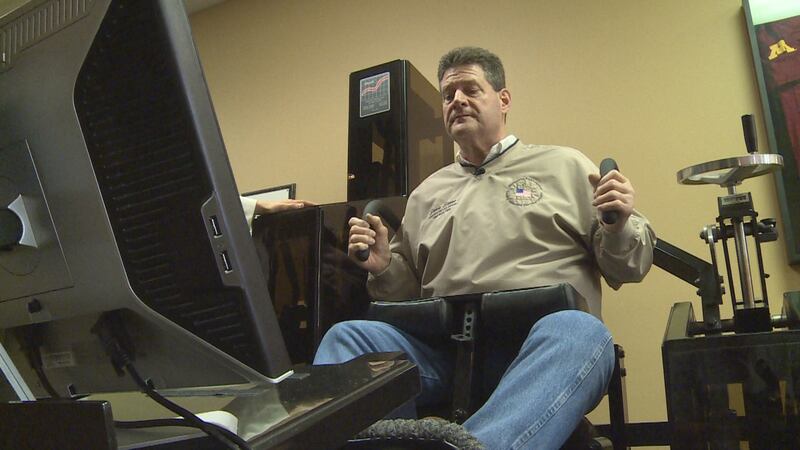 Published: Aug. 24, 2017 at 6:50 PM CDT
It's the drug epidemic that's sweeping the nation, now an alternative for addictive opioids is being pushed in Thief River Falls, Minnesota.
"You just want me to scream, do you?" Steve Stone said lightheartedly on the way to a work out machine.
Stone is an Army Veteran that comes to Rehab Authority for physical therapy.
"I've had 15 left knee surgeries in four joints. I've had right knee replacement and right hip replacement," Stone said.
"A lot of healthcare providers will say if it hurts don't do that. Physical therapists don't take that philosophy," said Stephanie Weyrauch.
Physical therapy helps Steve do more, with less medication.
"Throughout my career, going through the army and all the way up to this point, oxycodone was my big thing," Stone said.
Off opioids now, he set a new goal for his daughter's wedding.
"Where I wanted to the father daughter dance. I was able to do that, with her, without my cane," Stone said.
But, some, pain is more severe.
"Pain level is six and tough days like today, probably somewhere between a 9 and a 10," Nathan Anderson said.
Nathan Anderson was in a car accident in 2012.
"I wound up skidding down the road 50 feet and my seat belt didn't lock," Anderson said.
Anderson severely injured his neck, he also suffers from Cerebral Palsy making him a candidate for life-long physical therapy. But, there's a problem.
"I got three visits left," Anderson said.
Anderson's on medicare, and they cap the amount of therapy sessions he can have at 20 per year. He's at 17 and suspects the last few months he'll be forced to go without.
All while he's trying to get away from the opioids he's on.
"I don't want to live on medication day-in and day out," Anderson said.
"If you can empower somebody to control their pain, versus their pain controlling them then not only does that affect their mood, it affects their recovery. Because if you think you're going to get better, you're going to get better," Weyrauch said.
There is currently legislation in the works to expand the 20 physical therapy session cap for people on medicare.
There is also, legislation moving to give graduating physical therapists incentive to move to rural areas by forgiving some of their student debt.
People here hoping some of the pain of doing physical therapy can help combat some of the pain the opioid crisis is causing in many neighborhoods.