Fake phone number for Amazon Support almost costs woman $1,000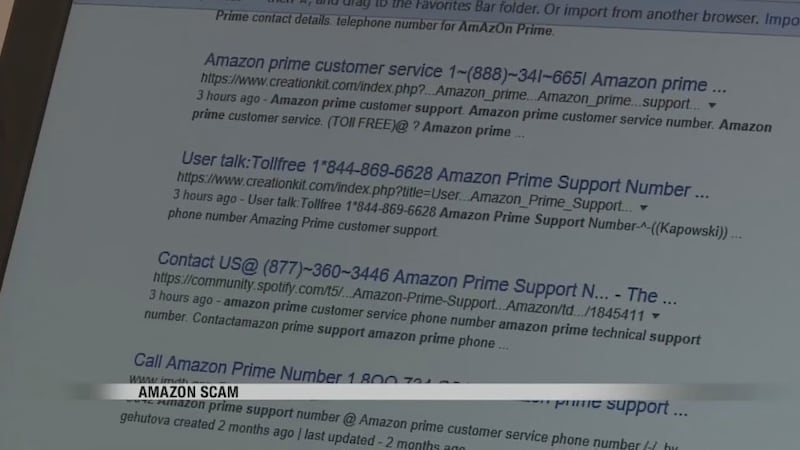 Published: Aug. 18, 2017 at 10:02 PM CDT
Many people assume scammers try and reach you by calling or emailing you, however a Moorhead woman contacted our Whistleblower Hotline saying she was scammed by a man when she called a number listed as Amazon Support on Google.
Nancy Campbell cancelled her Amazon Prime account months ago, so when a charge for another month of Prime service showed up on her credit card, she called Amazon Support – or so she thought. The number seemed legitimate and so did the man who answered, so Campbell didn't think twice when he asked to access her computer so he could walk her through the refund process. She says he told her to click on an icon that showed up on her computer screen, which then gave him control of her computer, but because she didn't give him any information about her computer, she's not sure how he did it.
The man claiming to be an Amazon Support agent asked her to log in to her Amazon account and began clicking through screens. She thought she saw him add items to her account, but he told her he hadn't charged anything. After more questioning, the man told Campbell it was a problem with her PayPal account, so he needed her to log in to that. She said they somehow landed on EBay when he told her that there was an issue with the Amazon server and he would need to call her back later. Suspicious, Campbell asked for contact information for the man - who identified himself as Neil Robertson.
Campbell ended her call with Robertson and quickly checked her PayPal account where she discovered a $500 dollar charge, and then found a different $500 charge on her EBay account. And it wasn't until she called the real Amazon Support center that she found a third charge of $500, but that one had been declined. Worried, Campbell froze her bank accounts and cancelled the credit card, hoping to stop any further charges.
Despite freezing her accounts, Campbell knew Robertson, the fake Amazon Support agent, still had access to her computer, so she shut it off. She took it in to be checked and wiped clean to remove the malware that had been planted on it, malware the computer technicians said they hadn't seen before.
Campbell says she eventually had to close her bank accounts and open new ones, as she did with her credit card and the fraudulent charges from EBay and PayPal were refunded. Campbell said when she did get a hold of the real Amazon Support agents, they, along with the customer support from EBay and PayPal, were all incredibly helpful, but hopes her story will prevent others from dealing with this in the future. The phone number she called is also listed on Google as fraudulent.