Cities nationwide, including Fargo, are taking a hard look at recycling programs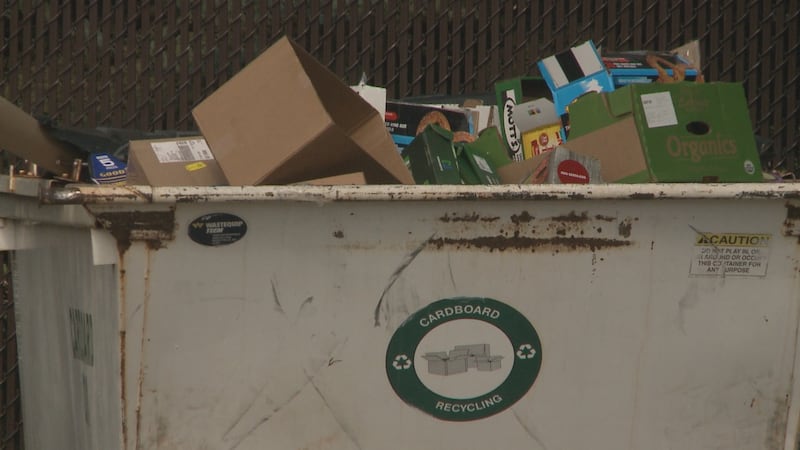 Published: Aug. 11, 2019 at 7:34 PM CDT
Fargo city workers like Lance Volk work 365 days a year picking up recycled material at the city's more than 20 sites.
"That's why we have to work seven days a week, everything is full," Volk, who works for the city's division of solid waste, said.
Volk said they're getting more card boxes and a lot of is because of online delivery.
"One thing for cardboard is just breaking down boxes. That's the reason half of them get full all the time, people come in with a big box and don't break it down," Volk said.
Yet as more recyclables pile up, hundreds of cities in the United States are either scaling back or ending their recycling programs.
Last year China stopped accepting most foreign recyclables leaving most trash with nowhere to go.
At a proposed budget hearing, Fargo Mayor Tim Mahoney said the city needs to be more realistic with its recycling.
"We can't get rid of all the trash we have in regards to that, as you know, China isn't taking as much so it's actually increased," Mahoney said. "We used to have revenue [coming] in from this area."
The city's proposing an approximate $65,000 increase to its recycling budget next fiscal year and a dollar fee increase to its curbside recycling service.
According to the city, there are 21,355 homes that participated last year in curbside recycling.
The program began in 2017 with the city charging homeowners $3 a month for a 96 gallon bin.
Documents showed the city spent $1.2 million for bins for 25,000 homes. At the time, the city said it would take at least five years to pay them off through user fees.
Volk said one of the issues that crews come across at recycling sites is people tossing garbage in recycling bins, which spoils the whole bin. He recommends people read what's acceptable and not acceptable before tossing in trash.
Despite the nationwide cuts to recycling, many people told us recycling is important.
"It's going to destroy our country if we don't keep recycling and help everybody," Ruth, who didn't want to give her last name, said.
We reached out to Fargo's mayor and we plan to speak with him during the week in regards to the city's recycling program.