Budweiser Clydesdale Horses help honor a Fargo police officer for his military service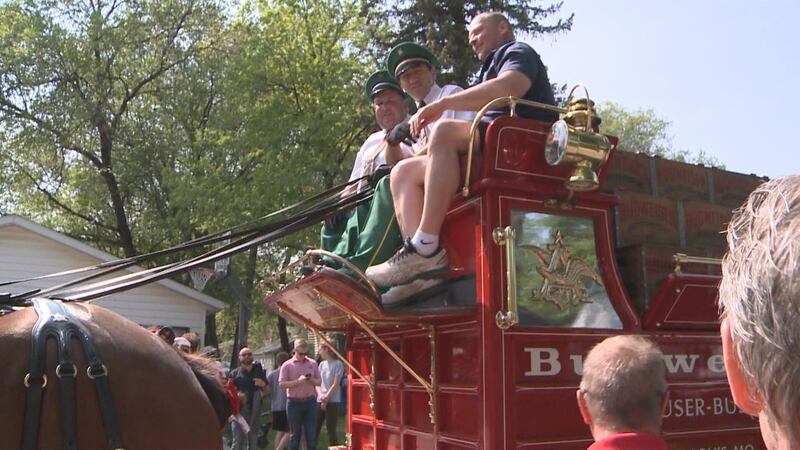 Published: May. 31, 2019 at 9:53 PM CDT
When the Budweiser Clydesdale Horses showed up in Fargo earlier this week, people may have thought it was a one-day event. But, those horses were still around to help honor a Fargo police officer.
Mike Austin, who's a patrol officer with the Fargo Police Department, was surprised Friday with an award recognizing his 20 years of military service.
Local distributor D-S Beverages was the company that presented Austin with a Hometown Hero Award.
"We've never done a surprise delivery before," Kristin Elhlert said. "They've always known about it ahead of time so this is going to be a real fun one."
The big surprise began at the Fargodome parking lot with the Clydesdale Horses being brushed and saddled. Beers were also getting placed in coolers.
Austin's family found out about the award Tuesday and they said it's been hard staying tightlipped.
"It has been [hard] considering what he does for a living, keeping him from finding out through his job, so it's been a little rough," Derrick Yahnke, his brother-in-law, said.
Gretchen Austin was the one who initiated Friday's event by nominating her husband for the Hometown Hero Award.
"I thought he would suspect something this afternoon but he didn't," she said.
When the cadre of horses, officers, family, and friend's showed up to Austin's front door step in north Fargo he was blown away. He said he never suspected a thing.
"I knew the team was in town but I didn't think they were coming down my street," Austin said.
Austin said he rarely speaks of his time in the military, where he served two tours in Iraq. He's also been with the Fargo Police Department for 18 years.
"It's nice being recognized. There's no doubt about it. But, I'm very much a quiet, private person when it comes to that. But it's very nice, very humbling," Austin said.
Austin also said he really appreciates his wife, not only for the nomination, but because he understands how hard it is being a military spouse.
As part of his award, Austin was given a year's supply of Budweiser and other items, including clothes. He also got to ride on the Clydesdale horses.