Baby hit by softball returns home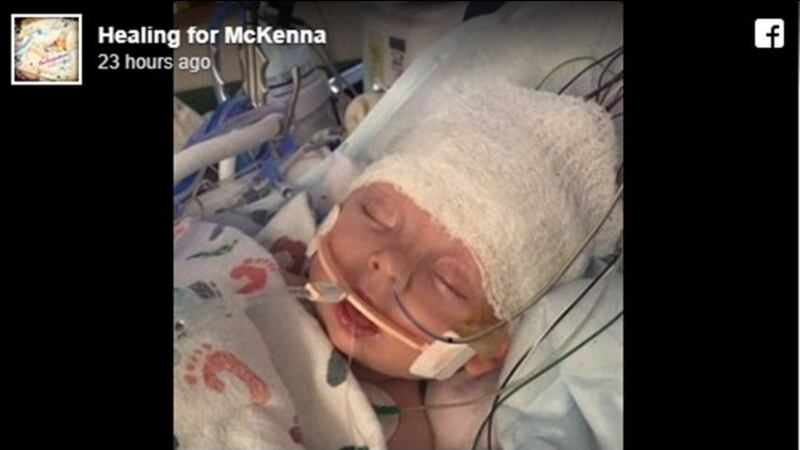 Published: Jun. 29, 2018 at 7:06 AM CDT
A baby who was hit by a softball is back at home, in the comfort of her mother's arms -- a place her parents weren't sure she'd ever be again.
For six weeks, McKenna was at Mayo Clinic children's hospital in Rochester, where her parents couldn't hold her or really, help her at all.
"We couldn't make noise in the room. We couldn't touch her," said McKenna's dad, Lee.
On May 2, while at a softball game, McKenna was hit on the head by an overthrown softball.
The impact caused a skull fracture and brain bleed.
As parents, all they could do was watch and wait, as seizures caused by the brain bleed became more frequent, lasting longer and longer. At one point, McKenna's seizures were lasting over an hour.
"She could have a chance to stop breathing. That is not something you want to hear," said McKenna's mom, Kassy.
The doctors told Kassy and Lee, they needed to put McKenna in a coma and use a ventilator to help her breathe.
The seizures finally stopped, but that only led to another terrifying moment when doctors went to take the ventilator out.
"I looked up at her stats and her oxygen was 2. Her heart rate was dropping. She got close to having to be resuscitated because her heart was about to stop," Lee said, through tears.
But McKenna battled through. On June 11, after a skull fracture, brain bleed, countless seizures and multiple surgeries, McKenna came home.
"Part of me was terrified leaving the hospital, that I wasn't coming home with the same child," said Kassy.
Slowly but surely, McKenna has let Kassy and Lee know their little girl is still with them. McKenna has begun to smile again, and has even laughed.
"We don't even know what struggles she is going to face in the future. They told us we could start to see signs at six to nine months, and she might not show anything until she is starting school. It could be a learning disability," Kassy said.
For now, the family is living for every moment because McKenna is here.
Kassy and Lee say they are overwhelmed by the support they have received during this trying time. The two can't thank everyone enough for the love they have shown McKenna.