8 Arrested in Guardian Angel Human Trafficking Operation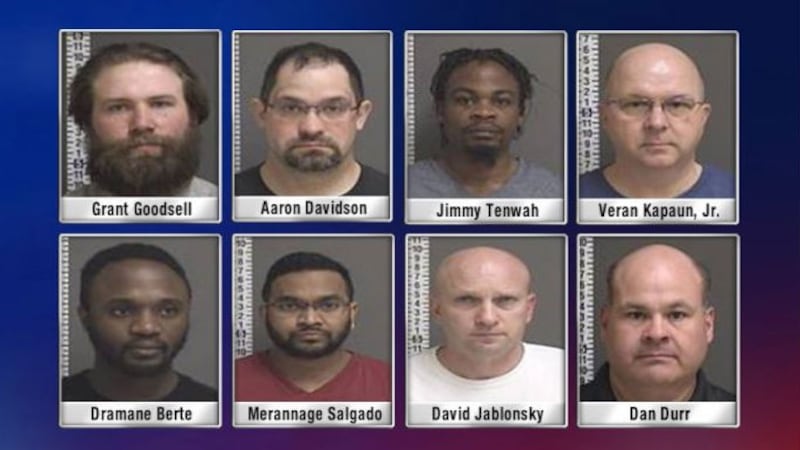 Published: Mar. 10, 2017 at 9:39 AM CST
One of the men arrested, Dan Durr, is listed as the CEO/President of Don's Car Washes, Inc. here in Fargo according to the company's website. The local business has two locations, one on 13th Avenue South and one on 52nd Avenue South.
8 people have been arrested in Guardian Angel Human Trafficking Operation.
The Fargo Police Department had the opportunity to participate in Human Trafficking training and two Human Trafficking undercover operations.
Those arrested are 42 year old Dan Kenneth Durr, 41 year old Aaron Christopher Davidson, 29 year old Jimmy Barh Tenwah, 50 year old Veran Adrian Kapaun, 21 year old Dramane Junior Berte, 32 year old Merennage Ravin Salgado -- all from Fargo -- as well as 26 year old Grand William Goodsell of Halstad, MN and 42 year old David Michael Jablonsky of Bismarck.
These undercover operations targeted adults agreeing to engage in sexual activity with minors. The operations took place in both Grand Forks and Fargo, North Dakota on two separate days. This resulted in nine total arrests, one in Grand Forks and eight in Fargo.
All of those arrested in Fargo were arrested for Patronizing a Minor for Commercial Sexual Activity, a Class A Felony. A Class A Felony is punishable up to 20 years in prison and a $20,000 fine.