#NoDAPL Protesters Getting Paid - Is This Proof?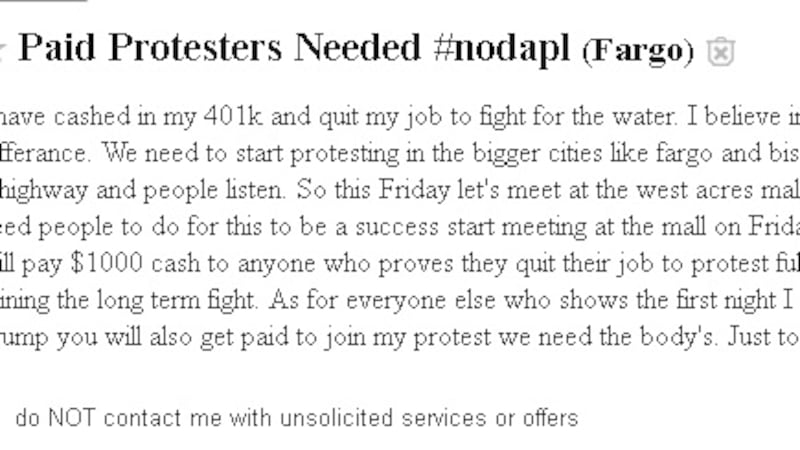 Published: Nov. 16, 2016 at 11:17 AM CST
Someone is soliciting to pay
Here is a picture of the posting on Craigslist.
He is inviting people to show up at West Acres Mall this Friday to protest the pipeline.
The protesters want you to believe this is an organic movement, and for many of them it may be what is in their hearts, and unfortunately paying protesters takes away and diminishes and discredits the people that are sincerely standing with Standing Rock.
On another note of sincerity, the Standing Rock Sioux Tribe has hired Earthjustice, an environmental nonprofit law firm, to represent them in their lawsuits against the the Federal Government. Earthjustice often uses a "sue and settle" strategy, where they sue a government agency, settle, and this allows the group to recoup attorney's fees (you can learn more by clicking on the documents attached to this article).
As you learn more about Standing Rock Sioux Tribe's budget situation, you begin to wonder if this is all really about protecting the water or maybe it is about something else.
Is there more to these protests than just protecting the water? I have invited Standing Rock Chairman Dave Archambault on Point of View more than several times. At this point, he has declined all of our offers. Hopefully, for the sake of TRUTH, he will accept my offer and answer questions, so we can shine light on how we can peacefully and powerfully solve this situation.