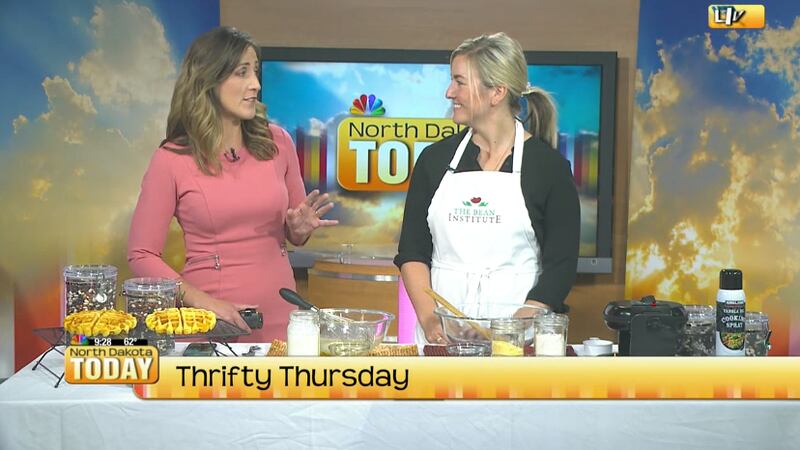 Published: Sep. 19, 2019 at 12:07 PM CDT
It's time for another Thrifty Thursday with Megan Myrdal, from the Northarvest Bean Growers Association with an easy and affordable recipe.
Cheesy Cornbread Waffles with Black Beans, Salsa & Sour Cream
Servings: 4
Ingredients:
1 cup AP flour
1 cup cornmeal
1 tablespoon sugar
1 tablespoon baking powder
1/2 teaspoon salt
2 eggs
1 ¼ cup buttermilk
¼ cup vegetable oil
1 cup sharp cheddar cheese
Toppings
1 cup black beans, drained, rinsed and warmed through
1/2 cup salsa
¼ cup sour cream (or plain Greek yogurt)
1 avocado, sliced
Hot sauce (optional)
Directions:
Whisk flour, cornmeal, sugar, baking powder, salt and cheddar cheese in a large mixing bowl. In a separate mixing bowl, whisk eggs, then whisk in the buttermilk and vegetable oil. Incorporate the wet ingredients into the dry ingredients and mix just until combined.
Preheat a waffle iron and coat with cooking spray. Pour some of the batter into the waffle iron and cook until golden brown, about 5 minutes. Transfer the waffles to a wire rack set on a baking sheet. Repeat with the remaining batter.
Top hot waffles with beans, sour cream, avocado and salsa