Essentia Health-Fargo receives heart care certification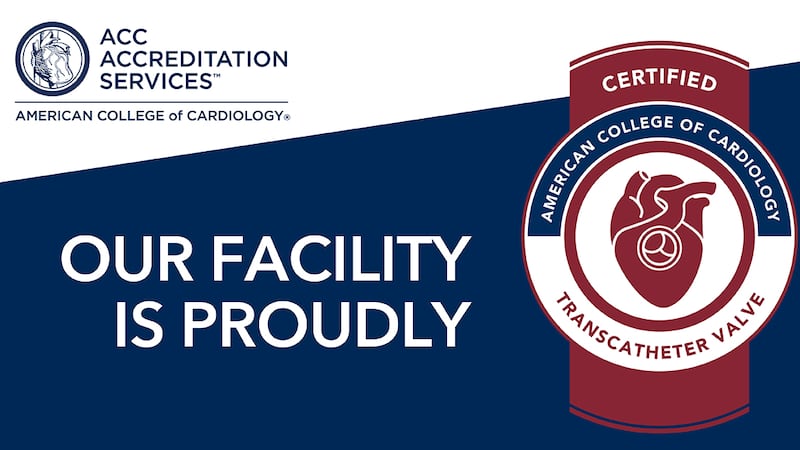 Published: Nov. 21, 2023 at 9:45 AM CST
FARGO, N.D. (Valley News Live) - Essentia Health-Fargo is proud to announce that its Heart and Vascular Center has been awarded Transcatheter Valve Certification by the American College of Cardiology. This certification demonstrates Essentia's ability to meet established safety, performance and documentation standards.
Essentia Health-Fargo's Heart and Vascular Center is the first to receive this ACC certification for its transcatheter valve aortic replacement program in North Dakota, South Dakota and Minnesota.
TAVR is an advanced, minimally invasive procedure used to treat severe aortic stenosis, a narrowing of a valve that reduces blood flow and puts stress on the heart.
"Essentia Health-Fargo has demonstrated its commitment to providing Fargo with excellent heart care," said Dr. Deepak L. Bhatt, chair of the ACC Accreditation Management Board. "We are proud to award Essentia Health-Fargo with this certification."
The ACC's Transcatheter Valve Certification is an external review and certification process that pairs with established national clinical databases to monitor patient safety and real-world outcomes related to transcatheter valve therapies.
The certification uses established national clinical measures to support clinical decisions and links process improvement to patient outcomes. Hospitals that achieve Transcatheter Valve Certification learn best practices for implementing evidence-based medicine to support patient-centered decision-making and can track key performance metrics to better identify opportunities for improvement.
"I'd like to applaud our cardiology colleagues for their dedicated focus, extra hours, teamwork and collaboration with the ACC Accreditation Services team to earn this outstanding recognition," said Duane Neugebauer, cardiology operations manager at Essentia Health-Fargo. "It reflects our commitment to providing the highest level of cardiac care."
Essentia Health-Fargo is also a Platinum Award Recipient for Heart Attack Care by the ACC. Learn more about the Essentia Health-Fargo Heart and Vascular Center at EsssentiaHealth.org.
Copyright 2023 KVLY. All rights reserved.