North Dakota State football flattens Southern Illinois, 34-10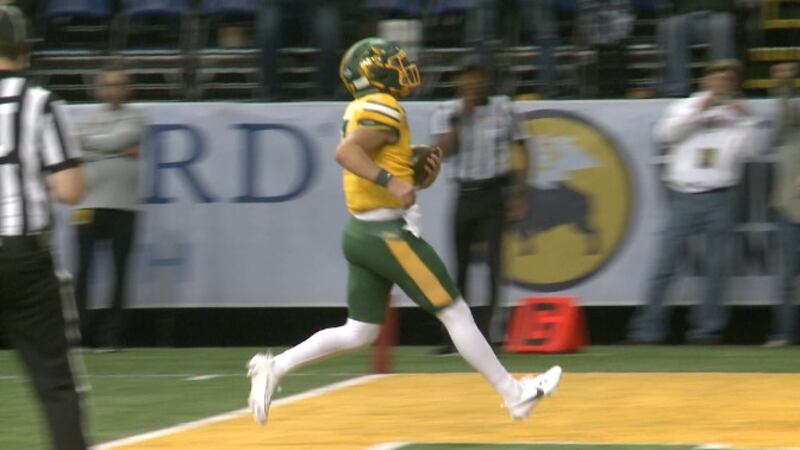 Published: Nov. 11, 2023 at 9:43 PM CST
FARGO, N.D. (NDSU Athletics) - No. 12-ranked North Dakota State scored 21 unanswered points in the second half to beat 11th-ranked Southern Illinois 34-10 in the Missouri Valley Football Conference on Saturday, Nov. 11, before a Harvest Bowl crowd of 14,191 at Gate City Bank Field at the Fargodome.
NDSU improved to 7-3 overall and 4-3 in the MVFC and moved into a tie for fourth place one game behind third-place Northern Iowa, who the Bison will visit next week in Cedar Falls. UNI dropped to 6-4 overall and 5-2 in the league with a 35-16 road loss to Missouri State.North Dakota State had eight ball carriers combine to rush for 217 yards, the most allowed this season by Southern Illinois, which entered with the nation's No. 3-ranked defense.
TaMerick Williams led the Bison with 51 carries and two touchdowns on eight carries, and Cam Miller and TK Marshall each scored on the ground for NDSU. Miller was 15 of 19 passing for 232 yards, including a 52-yard bomb to Braylon Henderson and a 40-yard grab by Eli Green over two defenders.
Raja Nelson led the Bison with four receptions for 81 yards, Henderson finished with three for 70 yards and Green had two catches for 62 yards.
Defensive end Jake Kava had 2.5 sacks and linebackers Logan Kopp and Nick Kubitz each made a team-high seven tackles for NDSU. Southern Illinois went three-and-out on its first three possessions of the second half and gained only 60 yards after halftime.
Copyright 2023 KVLY. All rights reserved.