Schuster Breaks Career Touchdown Record, Hawks Down Racers 45-31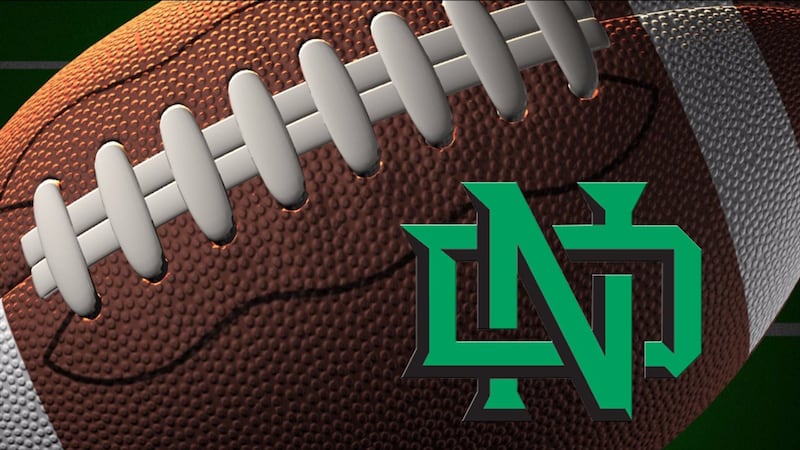 Published: Nov. 4, 2023 at 6:27 PM CDT
MURRAY, Ky. - No. 13/15 North Dakota (6-3, 4-2 MVFC) defeated Murray State (2-7, 1-5 MVFC), 45-31, at Roy Stewart Stadium on Saturday afternoon. The Fighting Hawks were in a tight game until Isaiah Smith broke a 21-yard rush for a touchdown late to give UND the 45-31 advantage.
In the game, Tommy Schuster went 18-for-23 passing for 279 yards and five touchdowns. He broke the all-time record for touchdowns thrown in a career at UND in the second quarter with his third touchdown pass, bringing his total up to 59 touchdowns thrown at the time. He shattered the record of Kelby Klosterman (1999-2002), who threw for 58 touchdowns in his career. By the end of the game, Schuster's career total was up to 61 touchdowns thrown.
Wesley Eliodor helped Schuster break the record with his 47-yard touchdown reception in the second quarter to bring the score to 17-3. Bo Belquist was Schuster's top target with six grabs for 84 yards, while Nick Kupfer hauled in two touchdowns and had three receptions for 59 yards. Eliodor finished with two catches for 53 yards.
Smith paced the Hawks on the ground with 21 touches for 153 yards and a score. The game was a back-and-forth contest until Smith's 21-yard touchdown rush with under five minutes left, which brought the tally to 45-31. Sawyer Seidl was the next-best back for UND and had seven carries for 49 yards.
North Dakota accounted for 507 yards of offense and 279 of those yards came through the air. Comparatively, Murray State had 379 offensive yards, highlighted by 228 yards passing.
NoDak scored on its first four offensive possessions and led 24-10 at the half. UND jumped out to a 17-0 lead early in the second quarter and scored on an 11-yard reception from Jack Wright, a 20-yard C.J. Elrichs field goal and a 22-yard grab from Kupfer. Murray State got on the board with 5:21 left before halftime with a 28-yard field goal.
In the opening half, North Dakota had 288 yards of offense with 189 yards passing and 99 yards rushing. The Fighting Hawk defense limited the Racer attack to 154 yards, with 93 yards through the air and 61 on the ground.
North Dakota will visit South Dakota next Saturday for the final road game of the regular season. Kickoff between the Fighting Hawks and Coyotes is slated for 1 p.m.
Copyright 2023 UND Athletics