Johannes strikes late to help No. 4 UND skate to 2-2 tie with Minnesota State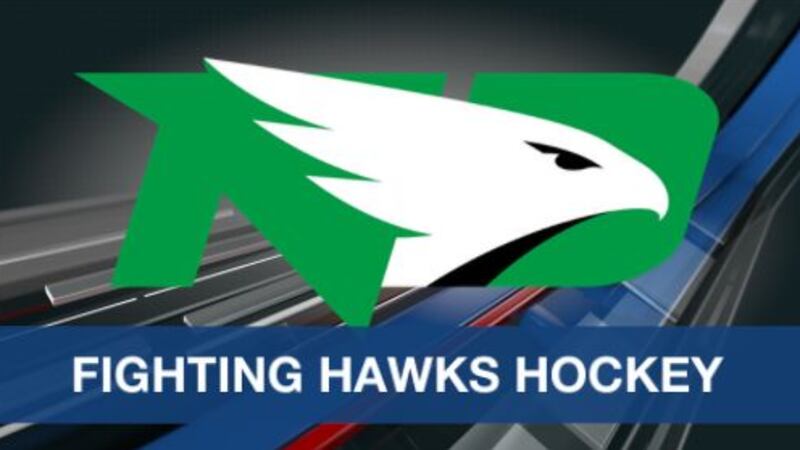 Published: Oct. 29, 2023 at 7:49 AM CDT
FARGO, N.D. (Valley News Live) - – Graduate student Hunter Johannes brought the game even midway through the third period to help No. 4 North Dakota skate to a 2-2 tie with Minnesota State on Saturday night from Ralph Engelstad Arena in Grand Forks, N.D.
Johannes collected the puck in his own zone before dangling around a defender in the neutral zone and wiring a shot over the goaltender at the 8:29 mark of the final stanza to electrify the fifth straight sellout crowd at the Ralph and cap off a 4-1-1 homestand to begin the season.
North Dakota (4-1-1) dominated the final 25 minutes of the contest and held a 25-6 shot advantage in the third period and overtime, but could only solve goaltender Alex Tracy twice on 39 shots throughout the entire contest to help the Mavericks (2-3-1) snap a three-game skid and preserve the tie.
Ludvig Persson was once again strong between the pipes once again, stopping 23-of-25 thrown his way to extend his unbeaten streak to three and record his fifth start this season with two-or-fewer goals allowed.
Despite Minnesota State getting off to a strong start, it was North Dakota who jumped in front on a power play goal from Riese Gaber just 6:14 into the contest. The tally was the 100th point of Gaber's career, becoming only the third active college hockey player to achieve the feat and the fifth time this year that UND has struck first.
The Mavericks were able to battle back and eventually grab the lead on a pair of goals from Will Hillman and Sam Morton to take a 2-1 lead into the first intermission before both teams slugged it out in the middle frame to take the same score into the final 20 minutes of action.
As the third wore on, UND started to take control of the game and the momentum that led to Johannes notching his team-leading fifth goal of the season to bring the score level at 2-2 with just under 12 minutes remaining. The hosts continued to put the pressure on for the go-ahead goal, finishing with a 17-5 shot advantage in the period, but Tracy was able to send the game into overtime.
In the extra session, UND controlled play for nearly the entire five minutes and held an 8-1 lead in shots, but once again the Maverick defense and Tracy held firm to close out the 2-2 tie.
North Dakota will hit the road for the first time this season to battle Boston University next weekend for a series beginning on Friday night.
Copyright 2023 KVLY. All rights reserved.