New details released regarding former nursing home administrator in Fertile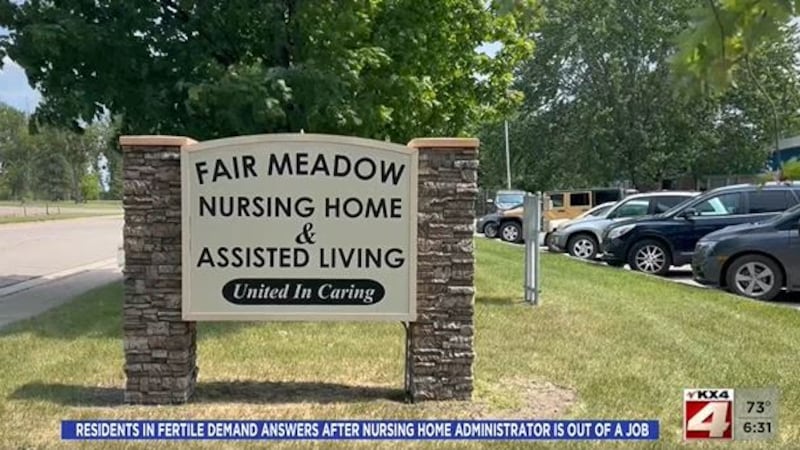 Published: Sep. 21, 2023 at 10:49 PM CDT
FERTILE, Minn. (Valley News Live) - We're learning more about what let to the nursing home administrator in Fertile to no longer be employed by the city.
Valley News Live first reported on the firing of Administrator Angela Leiting in July after several people contacted our Whistleblower Hotline. A group of concerned citizens gathered at the Fair Meadows Assisted Living and Nursing Home on Monday, July 10, in support of former Nursing Home Administrator. Leiting had worked at the facility for more than three decades. They say Leiting was wrongfully terminated and they want answers. Residents say, they've been told there were seven reasons why Leiting was given the ultimatum from the city, but they don't think any of them seem like good enough reason for her to be fired.
A decision dated Thursday, September 21, 2023 sent to media by River Valley Law says the state decided the evidence against Leiting is not enough to make it employment misconduct, so she will be granted unemployment. The state's decision of Leiting's unemployment status revealed new details on what led the board to fire her.
It shows issues with payroll, PTO, and Covid times; but says Leiting always had the best interests of residents & staff in mind-- and didn't mean to do it. You can read more on that below.
On July 10, 2023. Angela Leiting was denied Minnesota Unemployment Insurance because the City of Fertile stated Leiting was discharged for employment misconduct. Leiting appealed the determination, and an evidentiary hearing was conducted on Monday, September 18, 2023 because the evidence is insufficient to support a finding of employment misconduct,
The following was sent to media by River Valley Law (in part):
The City of Fertile operates Fair Meadow Nursing Home. Angela Leiting began working at Fair Meadow on November 16, 1998. She was the nursing home administrator and licensed assistant living director. Leiting earned an annual salary of approximately $120,000.
Fair Meadow stores unused nursing home equipment in a garage. Every year, it sold items in a rummage sale to raise money. The money was held in a guild and used to buy things for residents.
Due to the COVID pandemic, in-person sales were discontinued, and Leiting posted items for sale on Facebook Marketplace.
For various business reasons, Leiting occasionally froze employees' vacation leave. Sick leave was never frozen and could still be taken if an employee was ill.
On August 17, 2022, Leiting notified employees that "vacation and sick leave are on hold again for the month of September." Leiting did not intend to include sick leave in the message.
During a council meeting on April 10, 2023, Leiting was asked about sick time being frozen. Leiting clarified that the message should not have said "sick leave."
In the past, Fair Meadow paid employees monthly. It allowed employees to receive a "mid monthly advance", so they did not have to wait so long for a paycheck. Fair Meadow changed to a bi- weekly payroll in January 2019, and mid-month advances were eliminated.
Employees' paychecks contained errors. Jenn Derosier, the payroll administrator, corrected errors when brought to her attention. When coding payroll corrections on an employee's earning statement, Derosier used the "mid-month advance" code, which remained in the payroll system.
In 2021, Fair Meadow employees were asked to fill out a survey on job satisfaction during the COVID pandemic. Their main complaint included payroll errors involving call pay because so many shifts were vacant and being filled by others.
To reduce errors, Derosier was instructed to keep a log of payroll corrections, and Leiting was asked to include the information in her monthly report to the Council. Leiting included the information in her report for several months. Her attention to the matter declined over time, and she eventually neglected to address the issue. The Council did not bring the issue to Leiting's attention.
Fair Meadow received a federal grant in 2022 to distribute to employees as retention bonuses. The money had to be distributed over the course of six pay periods between January and March 2022. It was up to the facility to determine how the funds would be allocated.
Leiting initially determined that each hourly employee would receive an additional $2.50 per hour during that period, and managers would receive $200 more each pay period. She informed the Council of her objective, but it was not discussed further.
Leiting adjusted the numbers and a closer examination of the funding and employee's schedules. Hourly employees received $2.50 per hour more for the first three pay periods and $5 per hour more during the last three pay periods. Managers received an additional $200 for the first three pay periods and then $400 for the next two pay periods. The remaining money was evenly distributed among managers for the final week of the grant. This amounted to an additional $315 for each manager.
The Department determined that Leiting was ineligible for unemployment benefits because she quit in anticipation of being discharged. On appeal, Leiting alleges that she was discharged at the meeting on June 20, 2023.
According to Minnesota Statutes Section 268.095, subdivision 4, an applicant who was discharged from employment is ineligible for all unemployment benefits only if the discharge occurred because of employment misconduct.
Employment misconduct is defined under Minnesota Statutes Section 268.095, subdivision 6(a), as any intentional, negligent, or indifferent conduct, on or on the job that is a serious violation of the standards of behavior the employer has the right to reasonably expect of the employee.
Conduct that was a consequence of the applicant's mental illness or impairment, inefficiency, inadvertence, simple unsatisfactory conduct, conduct an average reasonable employee would have engaged in under the circumstances, poor performance because of inability or incapacity, good faith errors in judgment if judgment was required, or absence because of illness or injury with proper notice to the employer, are not employment misconduct.
The City contends that Leiting took several actions in 2021 and 2022 that were not within her authority. It also accuses her of "serious financial mismanagement" of the nursing home's resources. However, a preponderance of the evidence does not support a finding of employment misconduct in this case.
Leiting admits that she could have done a better job monitoring payroll errors, which were prevalent during the pandemic, but she focused her attention on what she sincerely believed to be more pressing issues.
Leiting was a dedicated employee for decades and appeared to always have the residents' best interests in mind. She cared about her employees, who worked as a team to persist through the pandemic. Leiting's actions were not intentional, negligent, or indifferent.
Because the evidence is insufficient to support a finding of employment misconduct, Leiting is eligible for unemployment benefits if all other conditions of eligibility are met.
Click the stories below to read our previous reporting on the issue:
Residents in Fertile demand answers after nursing home administrator is out of a job
Former nursing home administrator in Fertile files lawsuit against city
Copyright 2023 KVLY. All rights reserved.