Push for Fargo Liquor Control Board to get rid of liquor license cap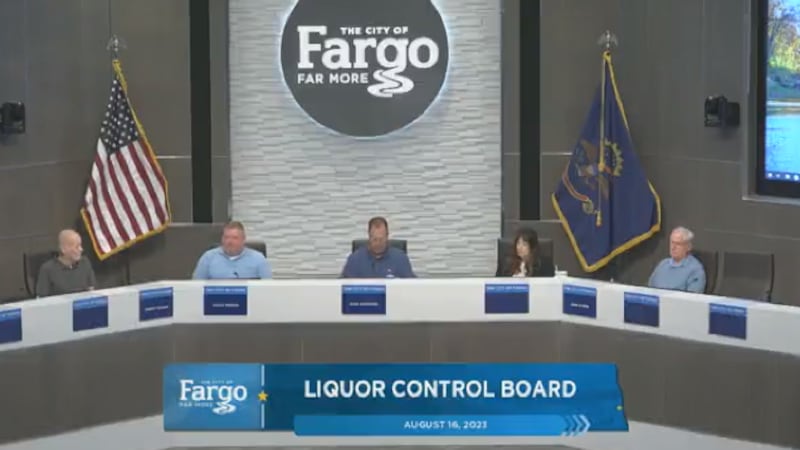 Published: Aug. 16, 2023 at 5:40 PM CDT
FARGO, N.D. (Valley News Live) - The Fargo Liquor Control Board held its monthly meeting today. During the meeting, as part of the agenda, the board listened to comments on the request to increase Class C and W licenses.
During the comments, members of the community asked the board to consider getting rid of the liquor license cap. Mark Bjornstad, owner of Drekker Brewing Co., was one of those who spoke to the board. "I'm obviously not an applicant for one of these licenses, but I wanted to give you guys some perspective as to what I see. We distribute to 32 different states. I'm in every one of those states at least once a year, in markets. Fargo is at least 10 years behind what is going on out in major metro areas. We just started to see what some of these new models are. Steve (Sprague, City Auditor) has done an incredible job trying to find a way in the rubric to get those licenses for people, but there is going to be an onslaught of new concepts coming," says Bjornstad. He goes on to tell the board this doesn't necessarily mean more consumption, but it means new concepts that don't fit the mold for what Fargo has available. Bjornstad says he encourages the board to get rid of the limit on licenses. "Every applicant still has to come to you. Every plan still has to be approved by you. The limit is somewhat arbitrary. These are two of the most common licenses people are using. We should open the market, and let the market decide what they want," he says.
Another person who spoke to the board on the issue was Jessica Medler. She's a current applicant for a Class W license. Medler is planning on opening 'Uncorked Lounge'. "We are a purely wine lounge, more geared towards the feminine of Fargo/Moorhead. As we think about the types of establishments in Fargo, it does gear itself more towards a sports bar. Women who want to go and have a relaxing night, maybe with their girlfriends, on a date, by themselves even, it is hard to find an establishment outside of your home in this location," she says. Medler says she agrees with Bjornstad's statement, that Fargo is behind the times when it comes to liquor licenses. "We will have food, but it's not going to be a major portion of our sales. So, that 50%+ is very daunting to us. I would really appreciate, if not getting rid of the cap, to just add a few more as the city grows," says Medler.
The third person to speak was a current applicant for a CW liquor license. Their plan is to be a sister company to Skill Cutz Barbershop & Salon. With Skill Cutz being high-volume, they say they're hoping to have the sister company be a high-end barbershop. "Our question is the same as everyone else's, removing that cap so we can broaden the barbershop space in Fargo-Moorhead," he said.
City Auditor Steve Sprague also spoke on the issue. He said he'd hope to recommend the board to request the city commission to direct the attorney to increase the number of licenses. "One comment that hasn't been made yet is: when you cap those licenses, what you do is create an inflated value of those licenses. We're saying that with the A's and the AB's and those types of licenses," says Sprague. He goes on to say he's afraid that's what they're going to do with the CW licenses. He says he'd like to have those licenses available instead of encouraging those seeking a license to buy it from someone else. "I think it's a good alternative to the full alcohol licenses we have," he says.
Liquor Control Board member Dave Piepkorn says he'd want to know what the pace of the licenses is. "From my perspective, it's good for us to know how we're increasing," he says. Piepkorn requested to speak more on it in the next meeting, on Sept. 20, instead of making a motion. Sprague agreed to bring more information for the board members to review at that next meeting.
Copyright 2023 KVLY. All rights reserved.