Governor Burgum grants emergency funding for snow removal costs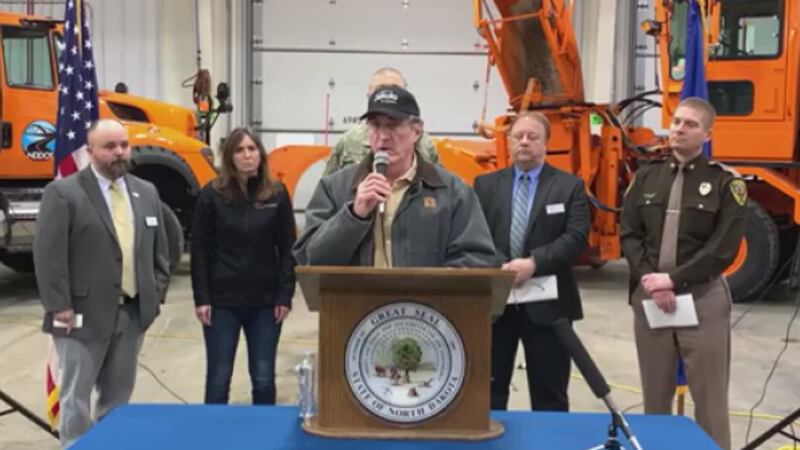 Published: Apr. 4, 2023 at 12:50 PM CDT
FARGO, N.D. (Valley News Live) - Governor Doug Burgum signed legislation on Tuesday, April 4, that provides emergency grants to help cover snow removal costs for local governments. The governor and other state leaders highlighted how state and local agencies are collaborating to respond to this week's major snowstorm and the high likelihood of spring flooding.
Senate Bill 2183 appropriates $20 million for emergency snow removal grants to eligible tribal governments, counties, cities and townships.
"This record-setting winter has strained resources at every level of government," said Burgum. "We can relieve some of the burden on communities and local taxpayers and help ensure that while this winter was one for the record books, it doesn't have to haunt their financial books."
Senate Bill 2183 passed the Senate 46-0 and the House 91-1. The bill provides $15 million in funding for reimbursement grants to tribes, counties, cities and townships for snow removal costs from Oct. 1, 2022, through Dec. 31, 2022, and an additional $5 million for reimbursement for the period of Oct. 1, 2022, through April 30, 2023.
Any unallocated funds from the first period can be made available as part of the second period. The bill will reimburse up to 60% of costs exceeding 150% of the average of four of the last five years' snow removal costs.
Nearly all of North Dakota is under a blizzard warning Tuesday morning through Wednesday night, with total snow accumulations of 8 to 17 inches and wind gusts of up to 55 miles per hour forecast.
Prior to this storm, Bismarck was only 6.3 inches short of its record seasonal snowfall total of 101.3 inches set in the winter of 1996-97.
The Department of Emergency Services will be sending out application forms through the North Dakota League of Cities, North Dakota Association of Counties and each county's Emergency Manager by the end of the week. All funds will be disbursed by June 30, state Homeland Security Division Director Darin Hanson said.
Officials are urging drivers to be patient, check the ND Roads app for road conditions, heed no travel advisories and give snow plows room to operate. Check gas meters and furnace vents to make sure they're clear of snow; and take the time to check on their neighbors.
Burgum also expressed gratitude for the work of snowplow crews, law enforcement, first responders, radio dispatchers, emergency management personnel and others who help keep our communities safe.
Copyright 2023 KVLY. All rights reserved.