Wild Rice River being rerouted through concrete structure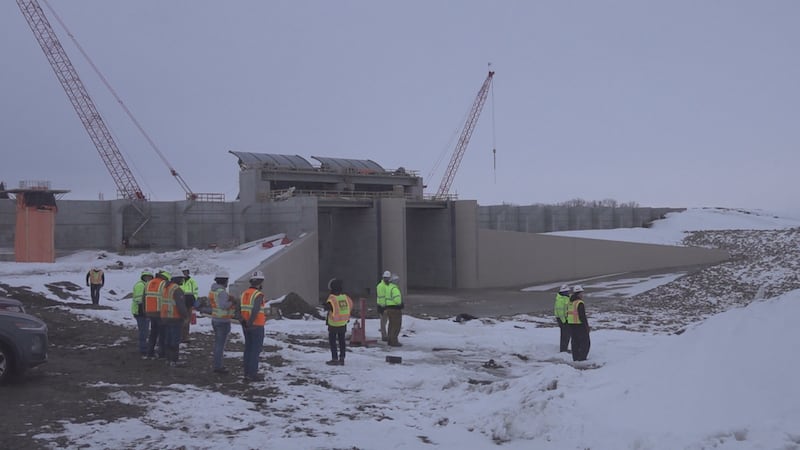 Published: Mar. 31, 2023 at 3:14 PM CDT
FARGO, N.D. (Valley News Live) - It's a big day for the Fargo-Moorhead Diversion Project. The U.S. Army Corps of Engineers is rerouting the Wild Rice River through a gated concrete structure, which is a first for the project.
After three years of construction, Ames Construction, Inc., is permanently diverting the Wild Rice River. This reroute will allow Ames to complete construction of a dam embankment across the existing Wild Rice River channel.
The Wild Rice River Structure is a concrete control structure with two 40-foot wide Tainter gates. Upon completion of the entire diversion project, the Wild Rice and Red River structures will regulate flows through the metro area during large flood events. The Red River Structure is also under construction and the permanent reroute of the Red River through that structure is anticipated in the next two to three years.
"This year is another year we're going to flood," said Fargo Mayor Tim Mahoney. "When we're finally done with the diversion we'll be able to defend."
The structures will not be used to control flooding until the entire diversion project is complete and approved for operation. Mahoney says in 2009, six million sandbags were made to protect the area from flooding. Because of flood mitigation measures, the city now prepares about 20,000 sandbags. He says with the completion of the F-M Diversion, sandbags will no longer be needed.
The Wild Rice River Structure is a part of the congressionally authorized Fargo-Moorhead diversion project which includes 30-mile-long diversion channel in North Dakota with upstream staging. The plan includes a 21-mile-long southern embankment, multiple highway and railroad bridges, three gated control structures and two aqueduct structures.
Copyright 2023 KVLY. All rights reserved.