Virginia teacher shot by 6-year-old: 'I thought I had died'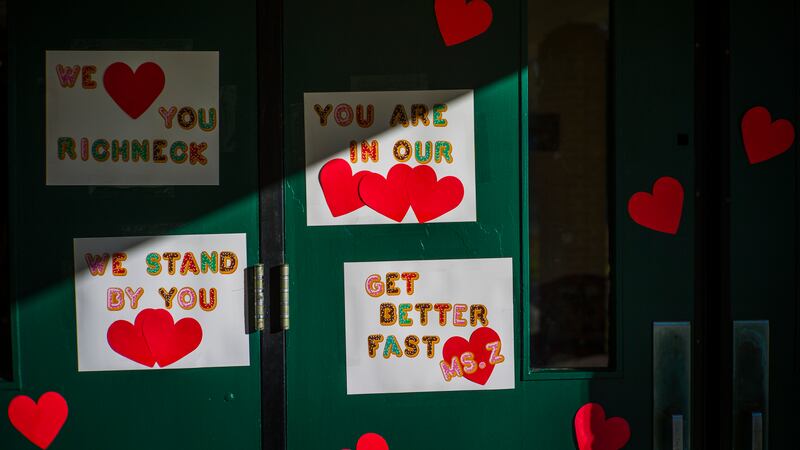 Published: Mar. 21, 2023 at 8:34 AM CDT
|
Updated: Mar. 21, 2023 at 4:56 PM CDT
NEWPORT NEWS, Va. (AP) — A Virginia teacher who was shot and wounded by her 6-year-old student said it has changed her life and she has vivid memories and nightmares about that day.
"I just will never forget the look on his face that he gave me while he pointed the gun directly at me," first-grade teacher Abby Zwerner said during an exclusive interview with NBC's Savannah Guthrie about the student. "It's changed me. It's changed my life."
She said she's still in shock and can't make sense of it, in a portion of the interview that aired Tuesday morning on "Today."
"I'm not sure when the shock will ever go away because of just how surreal it was and the vivid memories I have of that day. I think about it daily. Sometimes I have nightmares," she said.
Speaking publicly for the first time since the Jan. 6 shooting, Zwerner said in a portion of the interview that aired Monday on "NBC Nightly News" that she's had a challenging recovery. She's had four surgeries and has some days when she "can't get up out of bed." Other days she can go about her day.
"For going through what I've gone through, I try to stay positive. You know, try to have a positive outlook on what's happened and where my future's heading," Zwerner said.
Zwerner was hospitalized for nearly two weeks after being shot in the chest and left hand as she taught her class at Richneck Elementary School in Newport News, Virginia. The shooting rattled the military shipbuilding community and sent shock waves around the country, with many wondering how a child so young could get access to a gun and shoot his teacher.
In the moments after she was shot, Zwerner said the other first-graders in her class were screaming.
She was terrified. But her concern centered on the children — "I just wanted to get my babies out of there."
"I think they knew as well that they had to get out of there," Zwerner said. "But they were extremely frightened and screaming."
What happened next is still kind of a blur. Zwerner got the kids out of the classroom.
She knew she needed help. The fire alarm had gone off, heightening her awareness that she'd been shot.
She had trouble breathing. Her vision failed.
"I went to the office and I just passed out," Zwerner said. "I thought I had died."
Zwerner didn't know it at the time, but her lung had collapsed. Doctors said the bullet could have killed her. She likely survived because she had put up her hands.
"The initial gunshot went through my left hand and ruptured the middle bone as well as the index finger and the thumb," she said. "The gunshot then went into my chest up here, where it actually still remains. So I have the scar up here. And I still have some bullet fragments up here."
At the hospital, Zwerner called her mother "Mommy" for the first time in a long time. She lives with her twin sister, who's taken care of her since she returned home, from cooking meals to taking her to doctors appointments.
She said the support from the outside world has been "overwhelming" and difficult to comprehend.
"We have tons of handmade cards, hand-written cards with people's stories," Zwerner said.
Zwerner believes she survived for a reason. If she could talk to her first-graders, she'd tell each one she loves them.
"I'm very grateful that they're all alive," she said. "And they're safe, and they're healthy. And I just miss them dearly."
Zwerner told Guthrie the bullet wounds have scarred over. But she said they're still a reminder that, "Hey, this happened to you. This is what your body's been through."
Zwerner intends to sue the district, according to a legal notice filed by her attorney.
Michelle Price, a spokeswoman for Newport News Public Schools, said in a statement that officials could not comment on Zwerner's NBC interview, "but we appreciate her sharing her story."
"As a school community, we continue to recover and support one another after the terrible event of January 6 at Richneck Elementary School," the statement said. "We have also been working in partnership with our community to address safety and security throughout the division ... (T)he safety and wellbeing of our students and staff is our most important priority."
Earlier this month, top Newport News prosecutor Howard Gwynn said his office will not criminally charge the boy because he wouldn't understand the legal system and what a charge means. Gwynn has yet to decide if any adults will be charged.
The boy had fired his mother's gun, which police said was legally purchased. An attorney for the boy's family has said that the firearm was secured on a closet shelf and had a lock on it.
During Tuesday's interview, Guthrie asked Zwerner what justice would mean for her.
"That's a tough question to answer," the teacher said.
____
For more coverage of the shooting: https://apnews.com/hub/newport-news
Copyright 2023 The Associated Press. All rights reserved.