Detroit lakes receives $90,000 art grant to further creativity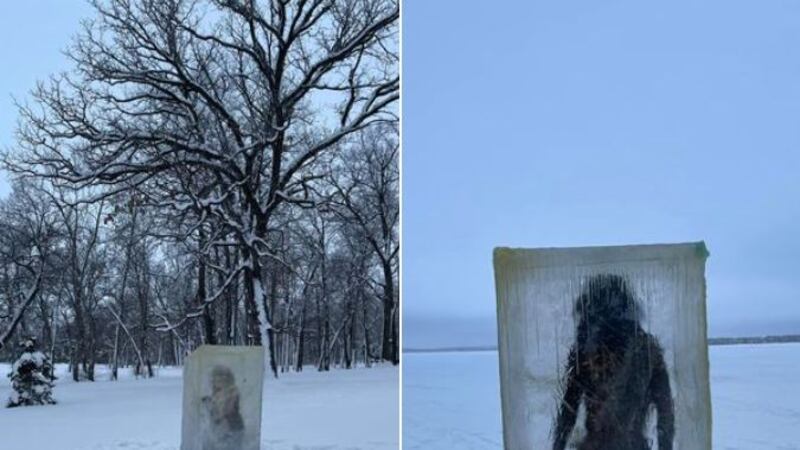 Published: Mar. 9, 2023 at 2:45 PM CST
FARGO, N.D. (Valley News Live) - The city of Detroit Lakes has a new partnership between the Historic Holmes Theatre and Project 412 called Create DL, a public art project.
Recently we brought you the story of the cave people and light display in December, one of the group's first art displays added around the city, and you can read that story here: https://www.valleynewslive.com/2022/12/30/cave-people-light-display-celebrate-winter-detroit-lakes/. If you've been to Detroit Mountain recently you may have also seen the new art addition provided by Project 412 called Mashaal the Mammoth.
The Blandin Foundation whose mission is all about Minnesotans imagining, leading, and growing resourceful, inclusive communities, just awarded the project a $90,000 Leadership Boost Grant. Leadership Boost Grants were launched to encourage Minnesotans living in rural and Tribal communities to be visionary and creative as they move their communities forward after two years of challenges.
"The last two years of complex crises have taken a toll on leaders across rural Minnesota," said Sonja Merrild, director of rural grantmaking at Blandin Foundation. "In times like this…the resilience and fortitude of rural people and places shines through. Yet, we recognize the critical need for more resources to move small communities from where they are to where they want to go. Rural and Tribal places simply don't get their fair share of funding and resources," said Merrild.
Projects to be funded by the grant include the creation of several murals, many smaller surprise art installments, alleyway improvements, and a community-wide art event.
Additional art projects will be added based on matching funds raised through donations and a crowdfunding campaign. Overall, Create DL will make its best effort to ensure public art reaches all corners of the city.
Thriving communities across the country have seen investments in public art result in improved quality of life for residents as well as growth in tourism and business. The Create DL project will beautify the community, adding vibrancy and excitement that inspires residents and businesses to implement their own creative projects.
In addition, art projects will create "Instagrammable" locations in areas of interest, generating social media attention and shared content from influencers. As a region that thrives on tourism, this investment will keep Detroit Lakes flourishing as a recreational destination.
To achieve the goals of this project, Create DL is asking for community support, first in identifying high-impact locations for public art projects. They encourage residents to look around their neighborhoods for blank walls that make good canvases for murals and share their ideas by March 19 online at www.createdl.com.
Once wall spaces are selected, Create DL will put out a call for artists in early April. Those interested should follow @project412mn on Instagram and Facebook for updates.
Create DL is also seeking financial contributions to expand the impact of this project. If you are interested in contributing, please contact Amy Stearns at amy@project412mn.org and follow @project412mn on social media for updates and future online donation options.
Copyright 2023 KVLY. All rights reserved.