Police: 2 students killed, man hurt in Des Moines shooting
Published: Jan. 23, 2023 at 2:24 PM CST
|
Updated: Jan. 23, 2023 at 10:22 PM CST
DES MOINES, Iowa (AP) — Two teenage students were killed Monday and a man was seriously injured in what police said was a targeted shooting at an alternative educational program designed to keep at-risk youth away from trouble. The injured man was identified as the program's founder — a rapper who left a life of gangs and violence and has been dedicated to helping youth in Des Moines.
Police said Monday that one man had been charged in the shooting, and two other people remained in custody. Preston Walls, 18, of Des Moines, was charged with two counts of murder and one count of attempted murder for the shooting at the Starts Right Here program. He was also charged with criminal gang participation.
Authorities said the shooting was the result of an ongoing gang dispute. Police said Walls was on supervised release for a weapons charge and had removed his ankle monitor 16 minutes before the shooting.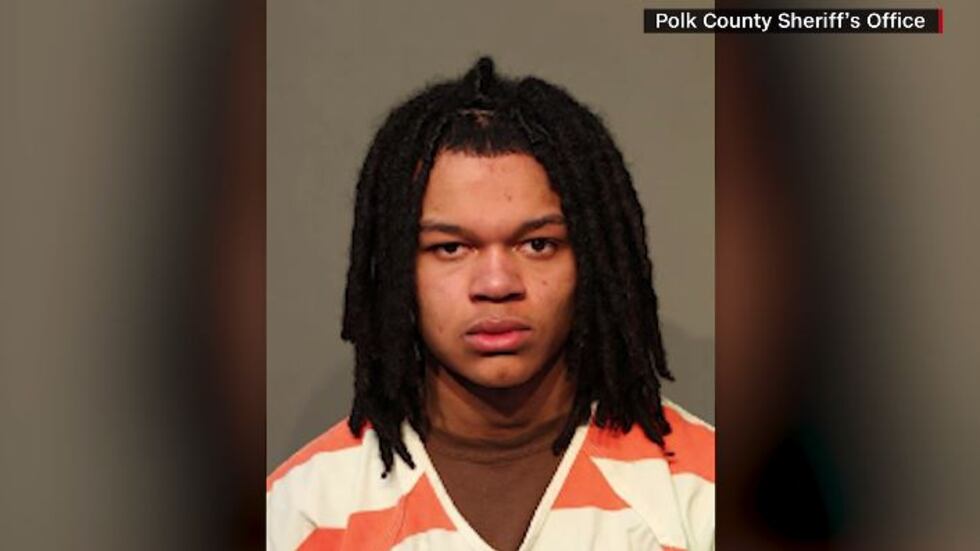 "The incident was definitely targeted. It was not random. There was nothing random about this," Sgt. Paul Parizek said.
Two Des Moines teens, an 18-year-old male and a 16-year-old male, were killed. William Holmes — a 49-year-old rapper who founded the program and goes by the stage name Will Keeps — was injured and was in surgery Monday evening.
Police said Walls and all three victims were at the school on Monday when Walls entered a common area where Holmes and the two students were. Walls had a 9mm handgun with an extended ammunition magazine in his possession, police said, though they did not specify if he was displaying the weapon.
Holmes tried to escort Walls away from the area, but Walls pulled away, "pulled the handgun and began to shoot both teenage victims," police said in a statement. Holmes was standing nearby and was also shot, then Walls ran away, police said.
Responding officers saw a suspicious vehicle leaving the area. Officers stopped the vehicle. But Walls ran away and was arrested a short time later. Police said a 9mm handgun was found nearby. The ammunition magazine — which has a capacity of 31 rounds — contained three.
Des Moines Mayor Frank Cownie said the people in the vehicle with Walls are also teenagers.
"That brings a total of five families of teenagers affected by youth gun violence in a matter of minutes on a Monday afternoon, right here in our capital city," Cownie said at Monday's City Council meeting. "This is a growing and alarming phenomenon in our country, and one we've seen too often in the past and again today in the city of Des Moines."
Cownie held a moment of silence for the victims. He said he spoke to their family members. "But there is little one can say that will lessen their pain. Nothing that can be said to bring them back, those who were killed so senselessly," he said.
Walls has not yet made a court appearance. It was not immediately clear if he had an attorney to speak on his behalf.
Police said emergency crews were called to the school, which is in a business park, just before 1 p.m. Officers arrived to find two students critically injured, and they started CPR immediately, but the two students died at a hospital.
Starts Right Here is an educational program that helps at-risk youth in grades 9-12 and is affiliated with the Des Moines school district.
"The school is designed to pick up the slack and help the kids who need help the most," Parizek said.
The Greater Des Moines Partnership, the economic and community development organization for the region, says on its website that Keeps came to Des Moines about 20 years ago from Chicago, where he "lived in a world of gangs and violence" before finding healing through music.
The partnership said the Starts Right Here movement "seeks to encourage and educate young people living in disadvantaged and oppressive circumstances using the arts, entertainment, music, hip hop and other programs. It also teaches financial literacy and helps students prepare for job interviews and improve their communication skills. The ultimate goal is to break down barriers of fear, intimidation and other damaging factors leading to a sense of being disenfranchised, forgotten and rejected."
According to the program's website, one of Keeps' songs, "Wake Up Iowa," sends a message that "violence and hate are not the Iowa way, and instead, we need to learn from other cities' mistakes, so we don't end up being ravaged by violence and crime."
The school's website says 70% of the students it serves are minorities, and it has had 28 graduates since it started in 2021. The school district said the program serves 40 to 50 students at any given time. The district said no district employees were on site at the time of the shooting.
Interim Superintendent Matt Smith said in a statement: "We are saddened to learn of another act of gun violence, especially one that impacts an organization that works closely with some of our students. We are still waiting to learn more details, but our thoughts are with any victims of this incident and their families and friends."
Gov. Kim Reynolds, who serves on an advisory board for Starts Right Here, said she was "shocked and saddened to hear about the shooting." Des Moines Police Chief Dana Wingert is on the Starts Right Here board, according to the program's website.
"I've seen first-hand how hard Will Keeps and his staff works to help at-risk kids through this alternative education program," Reynolds said in a statement. "My heart breaks for them, these kids and their families."
Nicole Krantz said her office near the school was put on lockdown immediately after the shooting, and she saw someone running from the building with police in pursuit on foot and in patrol cars.
"We just saw a lot of cop cars pouring in from everywhere," Krantz told the Des Moines Register. "It's terrifying. We're all worried. We went on lockdown, obviously. We were all told to stay away from the windows because we weren't sure if they caught the guy,"
The shooting was the sixth at a school in the U.S. this year in which someone was injured or killed, but the first with fatalities, according to Education Week, which tracks school shootings. The website said there were 51 school shootings last year involving injuries or deaths, and there have been 150 since 2018. In the worst school shooting last year, 21 people were killed in an elementary school in Uvalde, Texas.
In a separate shooting outside a Des Moines high school last March, one student was killed and two other teens were badly injured. Ten people — who were all between the ages of 14 and 18 at the time of the shooting — were charged afterward. Five of them have pleaded guilty to various charges associated with the shooting.
___
Funk reported from Omaha, Nebraska. Associated Press writers Jim Salter in O'Fallon, Missouri, and Heather Hollingsworth in Mission, Kansas, contributed to this report.
Copyright 2023 The Associated Press. All rights reserved.