'Hundreds' of racist bags dropped in West Fargo neighborhood, police investigating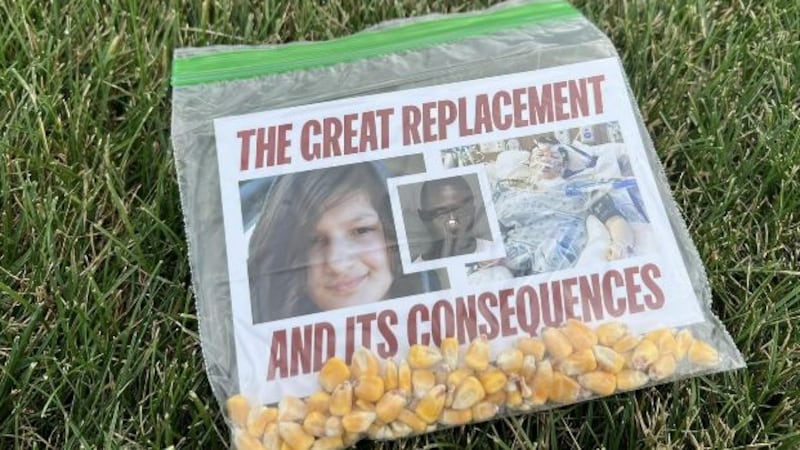 Published: Sep. 21, 2022 at 1:15 PM CDT
|
Updated: Sep. 21, 2022 at 5:43 PM CDT
FARGO, N.D. (Valley News Live) - West Fargo police are asking for your help identifying those responsible for distributing racist materials throughout a West Fargo neighborhood.
Driveways, sidewalks and yards were littered with hundreds of small bags were throughout The Wilds, in the south side of town, containing a postcard with language relating to a recent local court case.
"It's really disappointing number one. It's concerning," West Fargo Police Chief Denis Otterness said.
Inside, the pamphlet shows pictures of 14-year-old Jupiter Paulsen and 23-year-old Arthur Kollie with the words "The great replacement and its consequences." Paulsen was murdered by Kollie in a Fargo strip mall parking lot in June 2021.
"We certainly don't support and won't tolerate this kind of thing taking place in our community," Otterness said.
Experts say the 'Great Replacement Theory' is often touted by white supremacist groups and claim people of color are being brought to the U.S. to replace white voters to achieve a political agenda.
"It really goes against everything that the city stands for, and what the police department stands for and that's why we want to get to the bottom of who's behind it," Otterness said.
West Fargo Police are asking for neighbors to check security cameras for any suspicious activity Tuesday night into Wednesday morning to help them identify the people responsible, but Otterness adds it's still hard to say what crimes they could face.
"A lot of this is probably going to be covered under the First Amendment, you know free speech. There are other lower-level ordinance violations we may be able to find. It really depends on the way the investigation goes," he said.
Several neighbors we spoke with say 'it's disgusting' to know people in the community think and act like this, and along with Otterness, they say everyone is welcome in West Fargo and this community.
If you have any footage or information, call West Fargo Police Department at 701-515-5500.
Copyright 2022 KVLY. All rights reserved.